Did you notice high technologies fail recently? Look, my context ad is full of beer and pink crocodile-shaped dildos. Why the hell do I need beer? I just brought 20 bottles from the breweriana collectors convention. Now welcome to my report.
Here is the summary: 150 collectors from 13 countries meeting at the Crowne Plaza hotel in Minsk; two halls of 400 m2 total space, 74 tables, 274 Kelvins outside. Sponsored by Lidskoe Pivo.


The convention held by Belarusian breweriana collectors club volaty.by confirmed our strategic goal to build a truly international collectors meeting bringing together people not just from the neighboring countries but attracting collectors from far away. Geographical diversity definitely raises the exchange quality and facilitates establishing new connections between collectors. Of course, we are putting a lot of effort to reach the numbers. We were sending out a lot of invitations in advance using internet forums, social networks and personal relationships. This year the club issued 15 official invitations for our guests applying for Belarusian visa, which is also a record value.
The road to Minsk was not that plain for all of the participants. Steen Borup-Nielsen, representative of Denmark collectors in the BCWC alliance, inspired most of other convention participants who were lucky to meet him. He spent over 1 hour at Minsk airport on some document bureaucracy and was forced to pay fine for the luggage overweight, staying cheerful and provoking gloomy cashier girl to smile. Another collector from Norway Roald Fjellbakk, on the contrary, went out of the airport building even before scheduled arrival time, since the flight landed earlier than planned, and border formalities were missing as this was a 'domestic' flight from Moscow. However, we had hard times in advance arranging two visas: Belarusian and Russian. This was not straightforward since there's no Belarusian embassy in Norway.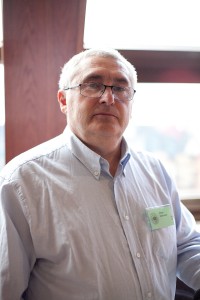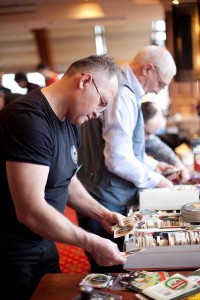 Guests started arriving in Minsk on Thursday, Mar 31st. Most were settling down in the RIPO hotel, which is the hotel we collaborate with every year. Possibility to reside at one place with all other convention participants is another bonus: communication and exchange starts already in the hotel.
On Friday, the day before the trade session, we invited guests to the touristic trip to some Belarusian sightseeing places. The trip is lead by one of the best Belarusian guides Sergei Busko. Some people even come to take part in this trip without staying for the convention on Saturday. This is a good reason to come to Belarus accompanied by your friend or spouse!
April 2nd, Saturday. The convention halls are open at 8:00 AM. Young Japanese girls are welcoming our guests.. oh no, that was just our plan, but my wife claimed her veto on it. So there were members of our club greeting our guests. We challenged ourselves to get rid of the long lines at the entrance which are very common when participants are waiting to be registered. We dispatched some tickets in advance and narrowed the registration procedure to mere ticket issuing, postponing dispatching of souvenir sets for later time. Tables were assigned in advance as well. We failed to fully diminish the queue, but at 8:13 the corridor was clean. Good step forward compared to previous years.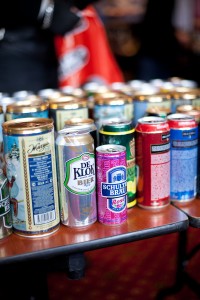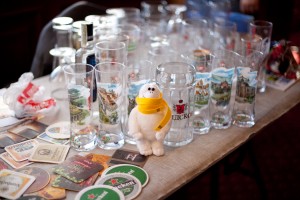 The halls and the corridor were decorated by the sponsor banners and flags of the participating countries. Exchange session lasted till 16:00, and this year it was the first time many people remaining actively trading by the end of the event. We are approaching the scale when 1 day is not enough. What goes next? Two-day session? Intergalactic convention?
Providing table space is not the only duty of the organizing committee. Our sponsors tried their best to make the conditions comfortable for our guests. Snacks and Lidskoe beer were some additional fuel for the participants to trade non-stop.

There was not enough beer for everyone (how can this ever be?), so the organizers draw guests attention to other activities. At 11:00 AM participants were greeted by our club chief Vasili Maiko and by PR-manager of Lida Brewery Tatsiana Molostova. Another member of our club Denis Mazovka acted as an informal party host keeping contact with collectors from an improvised stage. We wanted the opening ceremony to appear pathetic but we failed because a collector from Mogilev Vitali Shmakov was hanging around instigating other fellows to show various strong gestures (thanks Vitali!).
Andrei Zub, another active our club member, conducted a traditional tasting of Belarusian beer. Idea of this tasting is that we select 8 Belarusian beers, and then 5 judges from 5 different countries (not from Belarus) choose a champion. This year we were looking for the best Belarusian weizen. It was a complete failure: weizen from Lida Brewery got only the second prize! And the winner is Zlaty Bazant Pseniczne from Heineken Belarus. Denis was so nervous that he didn't even announce the winner.

Of course all the guests received their gift set. The set consisted of two bottles of new beers from Lida Brewery with an exclusive glass in a special wooden branded case. A smart selection for the organizers: many guests didn't manage to pack this massive case into their coffers and left it in the hall, so the organizers were lucky to get several handy cases into their household.

Those who located some spare time between meeting new people and tasting beer were able to take part in some contests with extra prizes.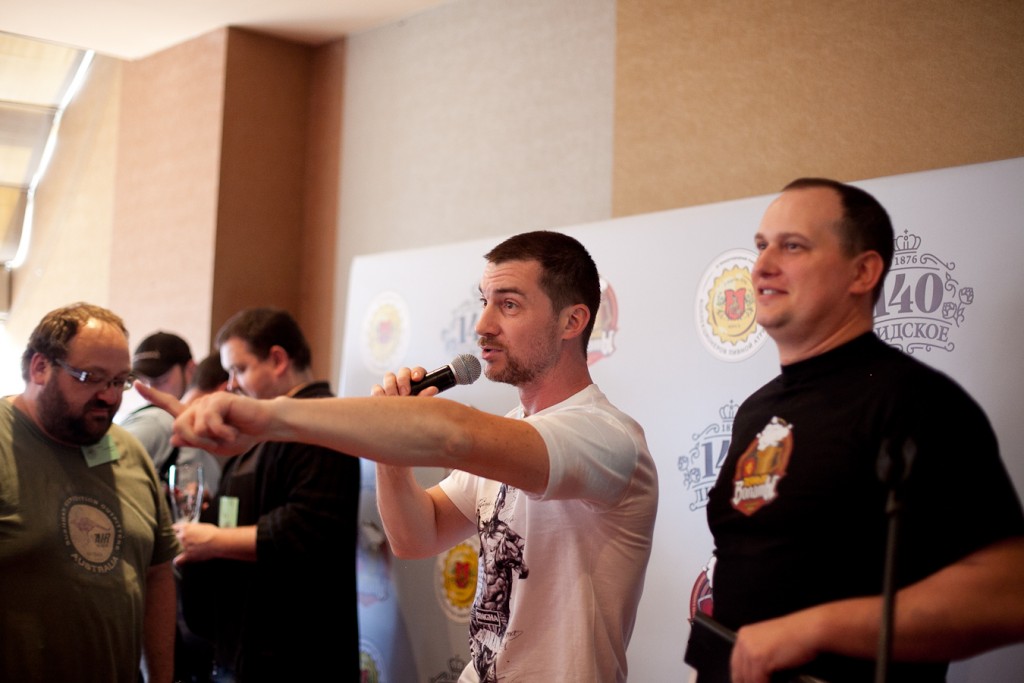 And finally, club volaty.by proudly granted membership to three new collectors from Belarus, Russia and Ukraine. Welcome aboard, friends!

Saturday evening was the time when the party continued in the beer restaurant named BEERzha close to the railway station so that tired guests had a simple way back home after everything's finished.
I'd like to share more with you but I have to rush home now. There's nobody there and I don't want to miss that. Find a complete photo report below. Cheers!
Я член правления клуба "Пивные Волаты". Я называю себя коллекционером красивых пивных этикеток и "дегустатором в отставке". Интерес к пивной теме начался в 1997 году с коллекции этикеток, потом появился инстинкт охотника за новыми сортами. Мне интересно не только и не столько само пиво как напиток, но сам феномен пивной культуры и истории, связанные с ним байки, стиль и его место в обществе. Мой интерес на сегодня - самые красивые этикетки и только редкие, эксклюзивные сорта пива.
Latest posts by Сергей Ших (see all)