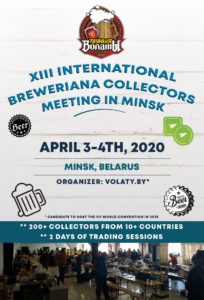 Dear friends!
Belarusian breweriana collectors club "volaty.by" (Piwnyja Volaty) invites you to take part in the XIII international exchange meeting in Minsk. The convention is to be held on April 3-4th, 2020. We will strive to gather 200 participants from over 10 counteries. We will continue to exploit the two-day format of the exchange sessions which received a lot of positive responses. More than 50% of collectors visit both exchange sessions (on Friday and on Saturday).
See you in Minsk!
Now here go details.
Date: April 3-4, 2020
Venue: White Hall at 10A Olshevskogo street, Minsk ("Jamaica" restaurant)
Time: April 4th: 8:00 - 16:00 (main session); April 3rd: 18:00 - 22:00 (extra session)
Program
The major program is a classic exchange meeting including:
Table space for each registered participant (no less than 60x90 cm)
Draft beer
Friendly atmosphere
Beer contests
Souvenirs
There are a few additional events for your satisfaction:
April 3rd, 10:00 - 16:00 - touristic trip to the Sula village - authentic part with Belarusian culture (follow the details HERE)
April 4th, 18:00 - 22:00 - friendly after-party
Accommodation
For those coming for more than one day we offer following options to consider:
RIPO hotel (12 Korolia str.) - close to city center; direct bus to the meeting venue. To book this hotel, specify your dates in the registration form. Price: around 50 BYN for single room; 60 BYN for double / twin room (this is equivalent of 20-25 EUR). This hotel is booked by the organizing committee
Bon Hotel - very close to meeting venue. Please book this hotel on your own.
Entrance fee
Exchange meeting - 10 BYN (~ 5 EUR) for a standard table; 5 BYN without a table; 15 BYN for an extended table space
Touristic Friday trip - around 50 BYN (~20 EUR)
After-party - according to your bill, no extra fee
Registration
To register, please go HERE
We encourage everyone to leave the application form before March 20th, otherwise we cannot guarantee hotel rooms and table space reserved .
Here is a list of registered participants (coming soon): PARTICIPANTS
If you feel any difficulties submitting a form, please contact organizers according to contact info below.
In case of any questions (and even in case of no questions) you might find all necessary information in Q&A section.
Invitation
In case of necessity, we will send you an official invitation. Remember that visitors from multiple countries (including the whole EU) can visit Belarus visa-free for the term up to 30 days provided entering the country by air (NOT VALID for flights from Russia which are considered domestic).
Organizers
Organizer: Public organization "Breweriana collectors club "volaty.by"
Committee head: Sergei Shikh
Contact e-mail: convention@volaty.by
Contact phone / Viber: +375-29-7587910
Skype: spin.s