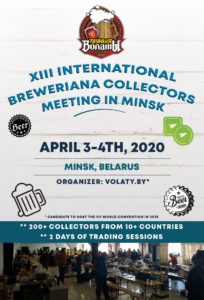 Dear friends!
Attention! Convention dates will be shifted because of travel restrictions. We will communicate new dates when the situation get to norm.
Belarusian breweriana collectors club "volaty.by" (Piwnyja Volaty) invites you to take part in the XIII international exchange meeting in Minsk. We will strive to gather 200 participants from over 10 countries. We will continue to exploit the two-day format of the exchange sessions which received a lot of positive responses. More than 50% of collectors visit both exchange sessions (on Friday and on Saturday).
Our main partner is
Lidskoe Pivo
, supporting our club during 5 years. Lidskoe Pivo is a major Belarusian brewery, established in 1876.
See you in Minsk!